…may be coming for you.
In early 2010, right after I'd moved down to Tucson and in with my friend Heather a.k.a. Kitty, the Gallbladder of Doom struck her a month after it'd struck her sister CJ Redwine, and for two months, I took care of her. Since then, the Gallbladder of Doom has come for many of my friends, it seems.
Now it has reared its ugly head yet again.
On June 8, 2015—five days before my birthday—Umi called me before noon crying because she was in a lot of pain. And I know it was a lot of pain because she called me at work crying and telling me to come home. I panicked a little, but for the most part kept calm. I think I surprised my co-workers by how calm I was. It's perfectly normal for me to be the rock for everyone else in my family. That's the way it's always been, so panic is not an option. Now, when it comes to my mother, I will tend to "lose it," but only when she's either not in my line of sight or when it's not imperative that I get to her in one piece….like on June 8, 2015. I needed to drive 11 miles from work to my home so that I could assess the situation and get her ass to the ER, which took some persuasion, by the way.
Once I got her to the ER, they got her back there quickly. Umi already has COPD and is on blood thinners because she had a pulmonary embolism several years ago, so they decided 10 hours later and after a CT Scan, an ultrasound, and the HIDA scan, that they wanted to do the surgery the next morning. They finally admitted her to the hospital. When the time came for her surgery the next morning, her INR was 4.1, which is incredibly high and she would bleed out if they did the surgery. So we had to wait another day. By Wednesday, her INR was down to 1.5, an
acceptable level for the surgery. The surgeon told me her gallbladder was very infected and he took care of the hernia while in there. Meanwhile, they're all surprised by her attitude because she's cracking everyone up and not acting like she's in pain at all. But that's Umi. Ever the joker, always willing to make others laugh, makes friends everywhere she goes. She hides her pain well.
I'd always thought that my ability to mask my pain was due to my being a Gemini, but it's apparent to me now that I've inherited it from my mother. And her Taurusian stubbornness.
Here's basically a rundown of what happened while at the hospital all week…
Due to the fact that her insurance had yet to activate, we need a little help with her medical bills. We'd appreciate any help at all. It's been a pretty crazy month, but that's another post altogether.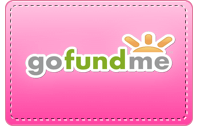 Peace,
Jinxie